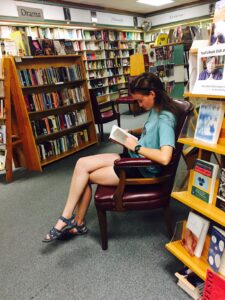 When our indie bookstore cross-country odyssey brought us to the long awaited Prairie Lights in Iowa City, I thought I might not be able to extract my cohort Flannery James from her reading chair. Having attended the Iowa Young Writers Studio, she has deep affection for Prairie Lights, and who wouldn't? This iconic bookstore features an ever-growing reading series, hosted both within the store and at a nearby theater. They attract bestselling authors on their book tours as well as the prestigious faculty of the Iowa Writers Workshop.
The deeply knowledgeable staff offers suggestions of must-reads as well ask  kids picks .  Book buyer Paul Ingram offers reading and book club suggestions at Paul's Corner.  We purchased THE PAPER  MENAGERIE by Ken Liu.
Prairie Lights sprang to life in May 1978 as a small, intimate bookstore offering titles by the newer voices of Raymond Carver and Alice Munro and by established authors like Eudora Welty and George Orwell. As the staff and customers tended the books with care much like a garden, the store grew and blossomed. By 1982 Prairie Lights transplanted itself from South Linn St. to South Dubuque and has gradually spread to three and a half floors, the half being an 1100 square foot coffee house located in the same space that the local literary society met throughout the 1930's, hosting writers Carl Sandburg, Robert Frost, Sherwood Anderson, Langston Hughes, e e cummings and others. Today the Cafe features art installations, including works by Elizabeth Munger,   Matthew Foster, Kenneth Hall,  Thomas Agran, Sarah Bozaan and Heidi Zenisek. 
The bookstore's strength of reputation lies in the reading series of local, national and international writers who have read their works which were broadcast live on stations WSUI and WOI and which was the only regular literary series of its kind. Upcoming events include visits from Paul Harding, Joe Brisben, Z.P. Dala, Benjamin Percy, Inara Verzemnieks  and Bernie Sanders.
Booklovers everywhere, consider Prairie Lights your mecca. For us, it was well worth the pilgrimage.