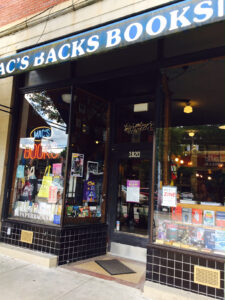 Our indie bookstore road trip brought us to Mac's Backs Books on Coventry, a vibrant literary and community hub in the heart of Cleveland Heights. Co-owner Suzanne DeGaetano warmly acquainted us with the shop, offered suggestions of books she loves, and asked us what we were currently reading. We felt instantly at home.
Mac's Backs began in 1978 when Jim McSherry bought a used bookstore in Chagrin Falls. The store moved briefly to Kent, Ohio before returning to Chagrin Falls where it became a popular book exchange and soon needed to expand to a second location. The Cleveland Heights store managed by Suzanne DeGaetano was opened in 1982 and has since had 3 locations on Coventry Road.
Mac's began hosting poetry readings when poets Daniel Thompson and Dennis McDonnell needed a new venue for a reading series they sponsored.  The readings have taken place on the 2nd Wednesday each month since 1984. Recent poetry readings featured Chris Franke and Terry Provost.  The store offers a regular book club, (this month they're reading MY NAME IS LUCY BARTON by Elizabeth Strout, a book I enjoyed), staff picks (such as Viet Thanh Nguyen, Jeanette Winterson and Mary Karr), and many signed books.
Fellow writers, you can count on Mac's Backs to carry three excellent magazines, POETS & WRITERS, WRITER'S DIGEST and WORLD LITERATURE TODAY.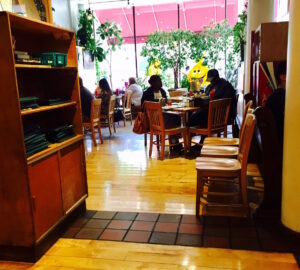 When you've had your fill of books, stroll to the adjacent Tommy's Restaurant, owned by Tommy Fello, for excellent food and coffee.