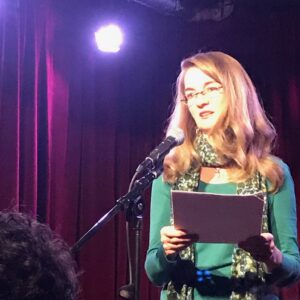 The Bennington Writers reading series kindly invited me to read on October 23rd  at the culinary and cultural New York landmark the Cornelia Street Cafe, where I shared an excerpt of my new novel, a work-in-progress. Readers of APRIL & OLIVER encountered familiar characters in deep water. Literally.
Joining me were fiction writers Carrie Cooperider, Danielle Decatur, and Parks Kugle. The Bennington Writers series, hosted and organized by writers V. Hansmann and Oona Patrick, features the voices of Bennington Writing Seminars students, graduates, faculty, staff, and friends. The readings take place in the Cornelia Street Cafe Underground, where a $10 cover includes a drink.
According to the New York Times, the Cornelia Street Café, "claimed a liberated identity, equally linked to the worlds of folk music, literature, Off Off Broadway and jazz." Opened in July 1977, the cafe was the birthplace of the Monday night songwriter's workshop started by Carolyne Mas, and became a place for burgeoning talents like Suzanne Vega to hone their skills. Eve Ensler read her VAGINA MONOLOGUES  there for the first time.
Today the café continues to showcase musicians, poets, writers, and artists. Co-owner and author Robin Hirsch regularly attends the readings. With sharply rising rents in the area, two longstanding restaurants on the block recently closed. If you love sumptuous food, music and literature, give the Cornelia Street Café some love. It will love you back.