For my full review of Paula Saunders' arresting debut novel, visit The Common.
Willa Cather once said, "Most of the basic material a writer works with is acquired before the age of fifteen." I thought of those words while reading Paula Saunders's cinematic debut novel, The Distance Home, which she has said is based on her fractured 1960s South Dakota childhood. Saunders draws from a deep well. 
The Distance Home joins such recent novels as Adam Haslett's Imagine Me Gone, Joyce Carol Oates' A Book of American Martyrs, Ann Patchett's Commonwealth and Elizabeth Strout's My Name is Lucy Barton that explore family dysfunction. Saunders asks us to consider the violent underside of American drivenness and its impact on a family's most vulnerable members.  
The story opens with two sisters, the last of the family, driving across the South Dakota plains after burying their mother, and having previously buried their father and brother. The descriptions of "long-abandoned homesteads" with "roofs pitched eerily to one side" foreshadow the remembrance of their turbulent past. 
At a reading I attended in Greece last August, Saunders said that as a Buddhist, she wrote the book as a sacred undertaking to understand what happened to her brother and why. "There was a lot of forgiveness in writing this book."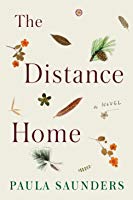 She began the novel as a graduate student at Syracuse University and finished it decades later, having raised a family of her own. The work's long gestation is evident in its dexterous language and distilled wisdom. 
The novel charts the family's decades-long rise from hardscrabble roots in a poor section of Old Fort Pierre, South Dakota to a stylish neighborhood of Rapid City, propelled by their workhorse father, Al, a cattle trader. Al sees his eldest child, Leon, a clumsy, tenderhearted stutterer, as a hindrance to his respectability and success. The boy is gradually, harrowingly, and at times nonchalantly, sacrificed to the gods of conformity.
To continue reading, visit The Common.