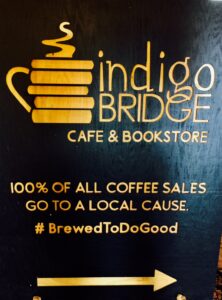 During our cross-country indie bookstore road trip, we happened upon Indigo Bridge Books located in the Creamery Building on P Street in Lincoln, Nebraska, a little bookstore with a mighty spirit. As the name suggests, the bookstore endeavors to help "bridge"  divisions of neighborhoods, social classes, political ambitions, religious beliefs, ethnicity, national borders, and even languages. In the Lincoln community, Indigo Bridge is a voice for tolerance, inclusion and positive regard for fellow human beings and the planet. Their dynamic book club offerings include themes such as human rights and graphic novels.
The staff at Indigo Bridge loves to put thoughtful books into your hands. Their recent picks include three of my favorites, AMERICANAH by Chimamanda Ngozi Adichie, WHAT IS NOT YOURS IS NOT YOURS by Helen Oyeyemi and THE GOLDFINCH by Donna Tartt. They also offer an eclectic assortment of zines and books by local authors.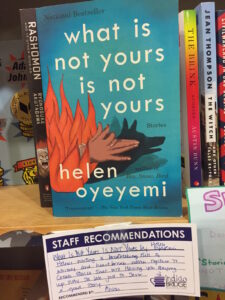 A cozy reading area offers a living room like feeling with rustic wooden tables, a bookshelf and piano. A delightful children's section is graced by a tree sculpture made of hand-dyed canvas and jute twine designed by artist Toby Thomas. More of Thomas's work can be found at http://tobythomas.com/.
Having studied creative writing at the University of Nebraska at Lincoln years ago with the wonderful Marly Swick, I wish Indigo Bridge had been around back then. The warm, personable staff sent us on our way with delicious mocha lattes from the café (all coffee proceeds go to good local causes). Indigo Bridge, a haven for all those seeking wise words and open hearts, is a bookstore with a mission.