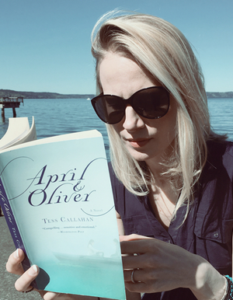 Grateful to writer, actress, producer, and book-lover Hallie Shepherd for drinking deeply from APRIL & OLIVER and sharing. Find more book, music and movie reviews on Hallie's blog.
HOW THE CHARACTERS APRIL AND OLIVER FOUND THEIR WAY INTO MY LIFE
April and Oliver is one of those truly special reads. It's the debut novel of author Tess Callahan (and to date, her only novel). Four years ago, I happened upon this book by chance, and it was a memorable read that landed itself on my keeper shelf. If you are looking for a moving novel about love, grief, growing up, messing up, moving on, and letting go, this subtle yet effective character piece may be one of the best books you've probably never heard of.
First, how did I even end up reading this gem of a novel? Well, here's the story: It was 2011 and as my fellow booklovers out there might recall, Borders Bookstore was going out of business. I wasn't even aware that was happening until one day when I drove past the Borders store near my house while running other errands and I saw huge signs advertising up to 90% off. Um, hello? NINETY PERCENT off books? All other errands were quickly abandoned as I pulled my car into the Borders parking lot. I entered the store and grabbed a basket and proceeded to wander the store in shock, because the shelves were still quite full, yet almost everything was 90% off. That meant books were ranging mostly from 70 cents to $2.00. Let's just say I was in heaven.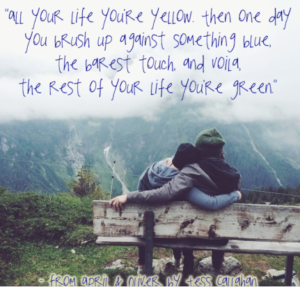 Because of that impossible-to-beat price and because my fellow shoppers were plucking books off the shelves and putting them into their own baskets (meaning now I couldn't buy them!), I decided that I could not be as discerning as I usually am about my book choices. I was going to pick books based on cover art, the back of the book description, and the first several sentences of page one. If I liked it well enough, it would go into the basket.
About thirty minutes later, the basket was getting heavy, so I called my husband. The conversation went something like this:
Me – "Ohmygod, you won't believe this. Borders is going out of business -"
Him – "The bookstore?"
Me – "Yes, the bookstore. I'm here now."
Him – (upset) "They're closing it?"
Me – "Yes, I know. That part sucks. But just listen. The books are NINETY percent off. Nine zero.  That's like a dollar a book. So I have a basket of, like, fifty books. I'm going to buy these now and we'll come back again tonight to get more."
Him – (excited) "Totally."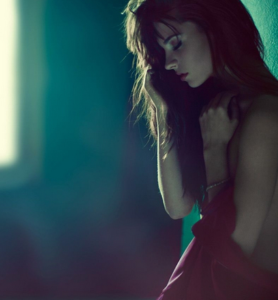 We did go back to Borders get more that night, and we also drove to other nearby cities to check out their sales. No other bookstore dropped their prices to ninety percent off until the shelves were almost empty, so it turned out that we were very lucky that our Borders happened to slash prices while so many books were still available. We bought well over one hundred books, many of which are still on my bookshelves waiting to be read.
On one of these book-buying excursions, April and Oliver ended up in my shopping basket. I loved the dreamy blue cover art and the opening lines:
"Buddy had been lost for some time, his wipers whisking in the thick Maine snow, when he spots a missed turn in his rearview and brakes. The car fishtails, rocketing into a spin. The faster it pivots, the slower time moves. Buddy is the fixed point, the world careening around him."
I thought to myself, Uh, oh, things aren't looking so good for Buddy. But I think I'm hooked.
Here's what the story is about: The book's main characters – April and Oliver – have been best friends since childhood, but they've always had an undeniable chemistry. At one point they were completely inseparable, but they have now become practically strangers as adults, leading very different lives. Oliver is the responsible law student and April is the reckless one.  Their paths cross once again though when April's brother Buddy dies in a snowy car crash. As Oliver is drawn back to the mysterious April, it poses a threat to both his own carefully constructed life and his recent engagement to a woman who is much more sensible and responsible than April.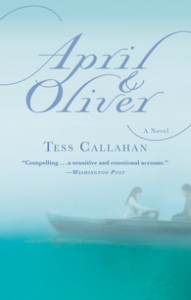 This might sound like a classic love triangle story, except it's not. Romantic love and sexual attraction and tension certainly does factor into the story but it's ultimately a story about how our past and present connections and obligations collide. At times, it's sweet. At times, it's dark. And at times, it's heart-wrenching. Callahan's beautiful prose creates such imagery and mood, and the characters are well-drawn in their strengths and their flaws.
I was lucky to find this book at the Book Sale of the Decade (or perhaps the Book Sale of My Lifetime), but I've since purchased it full price to give as a gift. If you're looking for a novel that is poignant, bittersweet, and well-written, I highly recommend April and Oliver.
Happy reading!
Drop me a line and let me know what some of your favorite lesser-known novels are. And let me know what you think of April and Oliver.
Hallie Shepherd is a writer, actress, and film producer. Follow her on Instagram where she celebrates the stories we tell.